ADFS Single Sign-On (SSO) login for WordPress [SAML] can be achieved by using our WordPress SAML SP Single Sign-On (SSO) plugin. Our plugin is compatible with all the SAML compliant Identity Providers. Here we will go through a step-by-step guide to configure SAML SSO login between WordPress site and ADFS by considering ADFS as IdP (Identity Provider) and WordPress as SP (Service Provider).

Pre-requisites : Download And Installation
To configure ADFS as SAML IdP with WordPress, you will need to install the miniOrange WP SAML SP SSO plugin:
Step-by-step Video to Setup SSO between WordPress and ADFS
Steps to configure ADFS Single Sign-On (SSO) Login into WordPress
Step 1: Setup ADFS as IDP (Identity Provider)
Follow the steps below to configure ADFS as IdP

Configure ADFS as IdP
In the miniOrange SAML SP SSO plugin, navigate to Service Provider Metadata tab. Here, you can find the SP metadata such as SP Entity ID and ACS (AssertionConsumerService) URL which are required to configure the Identity Provider.
On ADFS, search for ADFS Management application.
In AD FS Management, select Relying Party Trust and click on Add Relying Party Trust.
Select Claims aware from the Relying Party Trust Wizard and click on Start button.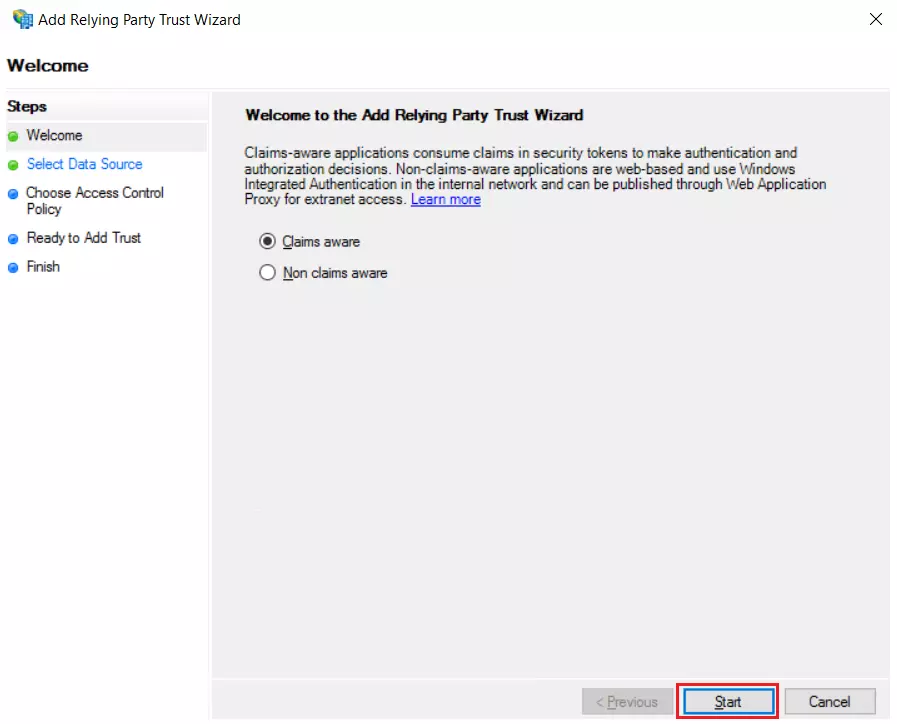 Select Data Source
In Select Data Source, select the data source for adding a relying party trust.