nopCommerce
The nopCommerce Single Sign-On (SSO) solution provides OAuth / OpenID Connect Single Sign-On (SSO) capability to your nopCommerce site, converting it to a OAuth client which can be configured with any OAuth/OIDC compliant Provider. nopCommerce OAuth/OIDC Single Sign On (SSO) allows SSO login with Azure AD, AWS Cognito, WHMCS, Ping Federate, Slack, Discord HR, Answerlink / Support center, WSO2, Wechat, Weibo, LinkedIn, Gitlab, Shibboleth, Blizzard (Formerly Battle.net), servicem8, Meetup, Gluu Server and other OAuth providers.Some of the popular supported OIDC providers - Amazon, Salesforce, PayPal, Google, AWS Cognito, Okta, OneLogin, Yahoo, ADFS, Gigya. Contact us to know more about our Service Provider plugin which lets users login into nopCommerce with any OAuth/OpenID Connect compliant Provider.
nopCommerce As Service Provider Use Case
Integration of Single sign on with nopCommerce is possible with miniOrange's OAuth/OIDC SSO plugin. You can easily integrate it with any OAuth/OIDC complaint providers. When nopCommerce makes an authentication request to the provider, the provider authenticates the user and provides user claims back to nopCommerce. This happens with the help of a set of API calls which your nopCommerce SP makes to the Provider. On successful authentication, the user is granted access to nopcommerce resources.
You can enable the OAuth/OIDC SSO login for your nopCommerce site using nopCommerce OAuth/OIDC Single Sign-On (SSO) plugin which can be integrated with any OAuth/OIDC compliant provider. When a user requests access for a resource, nopCommerce OAuth/OIDC SSO plugin makes a set of API calls to your provider and the user has to login with their provider's account. On successful authentication, the user is provided access to the nopCommerce resources.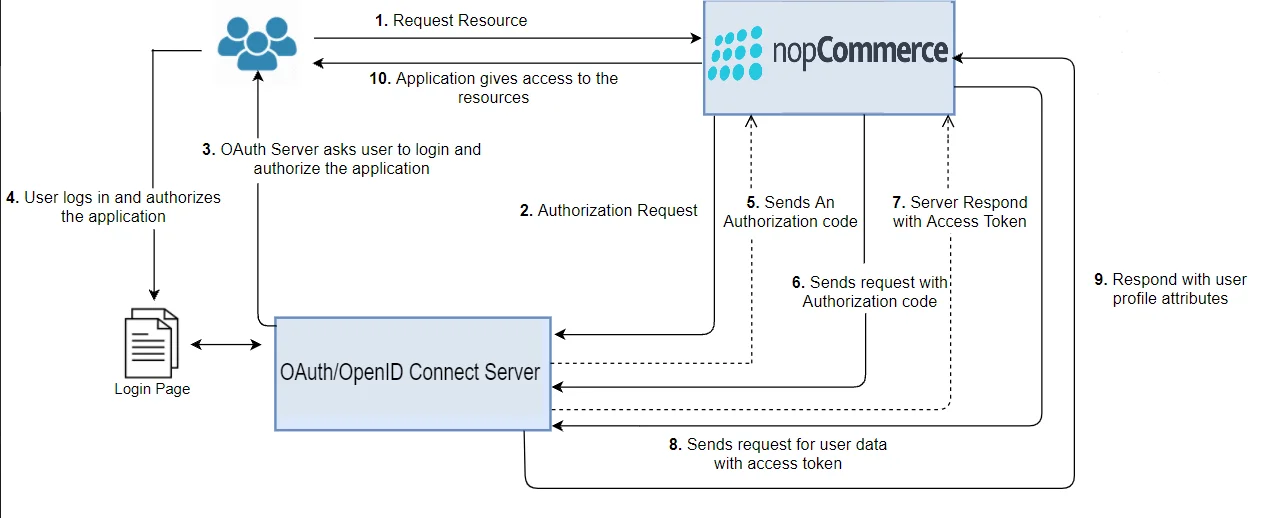 Workflow:
1. An unknown user tries to access nopCommerce resources.
2. nopCommerce sends an authorization request to the Oauth Provider.
3. The OAuth server asks the user to login and authorize the application. Next, the user logs in and authorizes the application.
4. Oauth Server send the authorization code to the OAuth client (nopCommerce)
5. nopCommerce sends the request for resources with the authorization code and the server responds with an access token.
6. nopCommerce then sends requests for user data with the access token and the resource server now responds with user profile attributes.