Fisheye/Crucible SAML app gives the ability to enable SAML Single Sign On for Fisheye/Crucible Software. Fisheye/Crucible Software is compatible with all SAML Identity Providers. Here we will go through a guide to configure SSO between Fisheye/Crucible and Okta. By the end of this guide, Okta users should be able to login and register to Fisheye/Crucible Software.
Step 1: Setup Okta as Identity Provider
Follow the steps below to configure Okta as an Identity Provider

Configuring Okta as IdP
Log into Okta Admin Console. Select "Classic UI" and then Application.
Click on Add Applications.
Click on Create New App.
Select SAML 2.0 as Sign on method.
Click on Create.
In General Settings, enter App Name and click on Next.
In SAML Settings, enter the following:

| | |
| --- | --- |
| Single Sign On URL | Enter ACS (AssertionConsumerService) URL from the Service Provider info tab of the module. |
| Audience URI (SP Entity ID) | Enter SP Entity ID / Issuer from the Service Provider info tab of the module. |
| Default Relay State | Enter Relay State from the service Provider info tab of the module. |
| Name ID Format | Select E-Mail Address as a Name Id from dropdown list. |
| Application Username | Okta username. |

Configure Attribute Statements and Group Attribute Statement (Optional).

For Name, enter "firstName" and select user.firstName from the value dropdown.

For Name, enter "lastName" and select user.lastName from the value dropdown.

For Name, enter "Email" and select user.email from the value dropdown.

For Name, enter "groups" and select Matches regex from the Filter dropdown and enter ".*"

Assigning Groups/People
After creating and configuring the app go to the Assignment Tab in Okta.
Here we select the peoples and groups you want to give access to log in through this app. Assign this to the people/group you would to give access to.
After assigning the people/groups to your app, go to Sign On tab.
Click on View Setup Instructions to get the SAML Login URL (Single Sign on URL), Single Logout URL, IDP Entity ID and X.509 Certificate. You will need this to configure the Service Provider.

Okta Verified SAML App
You can setup your plugin with our Okta Verified SAML app.
Okta verified SAML apps for all atlassian products like Jira and Confluence can be setup easily.
Search Miniorange in the search application box and add the app as per your requirements.
Step 2: Setup Fisheye/Crucible as Service Provider
With the inforamtion you have been given by your IDP team, you can configure IDP settings in 3 ways:
A.
By Metadata URL
Click on Import from Metadata in Configure IDP tab
Select IDP: Import From Metadata URL
Enter IDP metadata URL: Enter your metadata URL
If your IDP changes certificates at intervals, you can select Refresh metadata periodically. Select 5 minutes for the best results.
Click Import

B.
By uploading Metadata XML file
Click on Import from Metadata in Configure IDP tab
Select IDP: Import from Metadata File
Upload IDP metadata file
Click Upload

C.
Manual Configuration
Go to Configure IDP tab and enter the following details
IDP Entity ID
Single Sign On URL
Single Logout URL
X.509 Certificate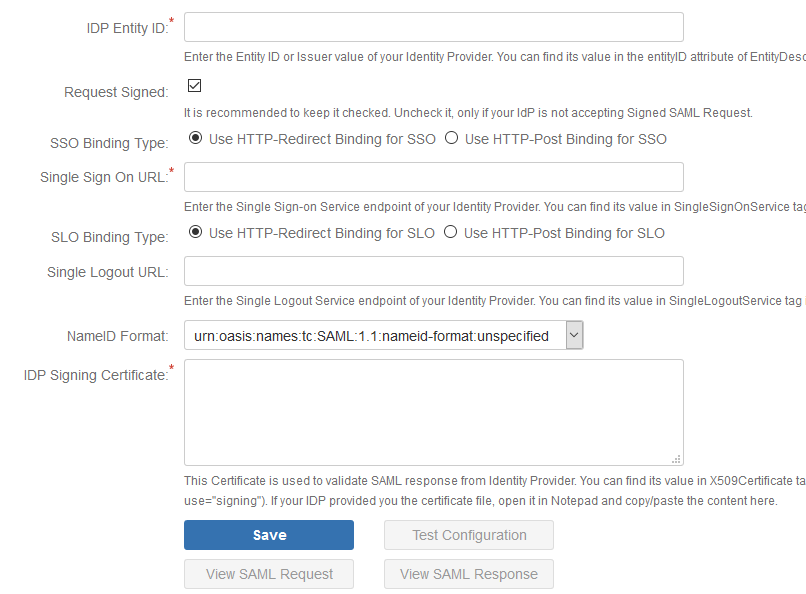 Step 3: Setting up Fisheye/Crucible user profile attributes
Step 4: Assigning groups to users
We will be setting up user group attributes for Fisheye. If your users are stored in a directory that is Read Only, please check Disable Group Mapping in User Groups tab and skip to Setting default group.




a. Finding Group Attribute

Just like we found Attribute Name for User Profile attributes, we find group attribute.
Go to Configure IDP tab. Scroll down and click on Test Configuration.
You will see all the values returned by your IDP to Fisheye/Crucible in a table. If you don't see value with groups, make the required settings in your IDP to return group names.
Once you see all the values in Test Configuration, keep the window open and go to User Groups tab.
Enter the Attribute Name of group against Group Attribute
At the bottom of the page, all groups in Fisheye/Crucible are shown. You can map groups in IDP which correspond to Fisheye/Crucible groups. For example, if you want all users in dev-ops and dev groups in IDP to be added to crucible-users, you will need to enter dev-ops;dev against crucible-users
If you want user mapping to work for only limited groups in Fisheye/Crucible, check the option Update User Groups



b. Setting default group

Select the users' Default Group in the tab User Groups. If no group is mapped, users are added by default to this group.
Step 5: SSO Settings
The settings in SSO Settings tab define the user experience for Single Sign On.


a. Sign In Settings

Set Enable SSO for Fisheye/Crucible Software to allow SSO for Fisheye/Crucible Software users.
Set button text for button on login page using Login Button Text
Set redirect URL after login using Relay State. Keep this empty for coming back to the same page user started from
Enable Auto-redirect to IDP if you want to allow users to login only using IDP. Enable backdoor for emergency



c. Sign Out Settings

Set Logout URL or Logout Template to redirect users after logout action.




d. SSO Error Settings

Set error template to redirect users to a custom error page instead of login page. Use this if you have Auto-redirect to IDP enabled.


If you are looking for anything which you cannot find, please drop us an email on info@xecurify.com