Fisheye/Crucible SAML app gives the ability to enable SAML Single Sign On for Fisheye/Crucible Software. Fisheye/Crucible Software is compatible with all SAML Identity Providers. Here we will go through a guide to configure SSO between Fisheye/Crucible and Ping One. By the end of this guide, Ping One users should be able to login and register to Fisheye/Crucible Software.
Step 1: Setup Ping One as Identity Provider
All the information required to configure the Ping One i.e. plugin's metadata is given in the Service Provider Info tab of the miniOrange plugin.

Login to your Ping One environment as the administrator. Click on your ProfileAdmin.
Go to ApplicationsAdd ApplicationNew SAML Application.
Enter the application details and click Continue to Next Step. Application Name, Application Description, and Category are required fields. For logos and icons, PNG is the only supported graphics format.

Provide the SAML configuration details for the application.
1.Signing. In the dropdown list, select the signing certificate you want to use.

2.SAML Metadata. Click Download to retrieve the SAML metadata for Ping One. This supplies the Ping One connection information to the application.

3.Protocol Version. Select the SAML protocol version appropriate for your application.

4.Upload Metadata. Click Choose File to upload the application's metadata file. The entries for ACS URL and Entity ID will then be supplied for you. If you do not upload the application metadata, you will need to enter this information manually. When you are manually assigning an Entity ID value, the Entity ID must be unique, unless you are assigning the Entity ID value for a private, managed application (an application that is supplied and configured by a PingOne for Enterprise administrator, rather than by an SP).

5.Single Logout Endpoint. The URL to which our service will send the SAML Single Logout (SLO) request using the Single Logout Binding Type that you select).

6.Single Logout Response Endpoint. The URL to which your service will send the SLO Response.

7.Single Logout Binding Type. Select the binding type (Redirect or POST) to use for SLO.

8.Primary Verification Certificate. Click Choose File to upload the primary public verification certificate to use for verifying the SP signatures on SLO requests and responses.

9.Signing Algorithm. Use the default value or select the algorithm to use from the dropdown list.



Optional:

I.Encrypt Assertion. If selected, the assertions PingOne sends to the SP for the application will be encrypted.

II.Encryption Certificate: Upload the certificate from miniOrange plugin to use to encrypt the assertions.

III.Encryption Algorithm: Choose the algorithm to use for encrypting the assertions. We recommend AES_256 (the default), but you can select AES_128 instead.

IV.Transport Algorithm: The algorithm used for securely transporting the encryption key. Currently, RSA-OAEP is the only transport algorithm supported.

V.Force Re-authentication. If selected, users having a current, active SSO session will be re- authenticated by the identity bridge to establish a connection to this application.



Click Continue to Next Step. The SSO Attribute Mapping page is displayed.
The summary information for the application configuration is then displayed on a new page and the new SAML application is added to your My Applications list.
×
Step 2: Setup Fisheye/Crucible as Service Provider
With the inforamtion you have been given by your IDP team, you can configure IDP settings in 3 ways:
A.
By Metadata URL
Click on Import from Metadata in Configure IDP tab
Select IDP: Import From Metadata URL
Enter IDP metadata URL: Enter your metadata URL
If your IDP changes certificates at intervals, you can select Refresh metadata periodically. Select 5 minutes for the best results.
Click Import

B.
By uploading Metadata XML file
Click on Import from Metadata in Configure IDP tab
Select IDP: Import from Metadata File
Upload IDP metadata file
Click Upload

C.
Manual Configuration
Go to Configure IDP tab and enter the following details
IDP Entity ID
Single Sign On URL
Single Logout URL
X.509 Certificate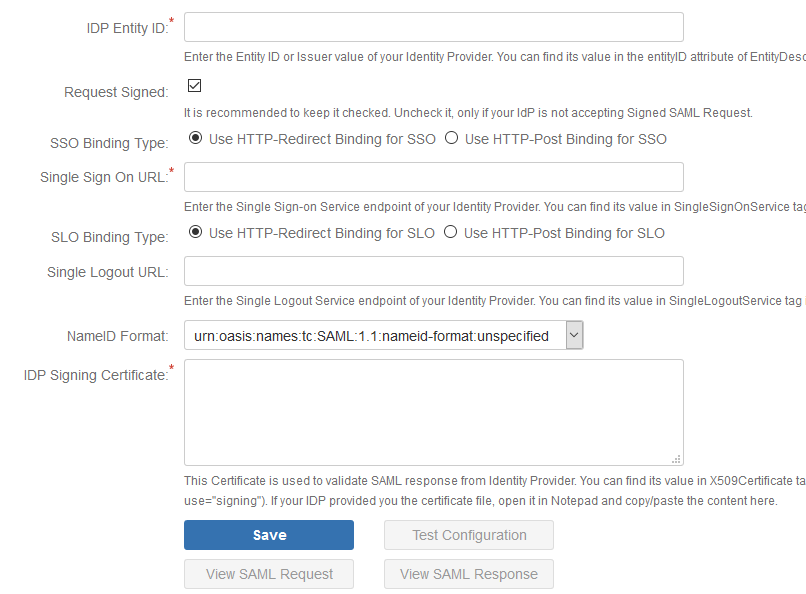 Step 3: Setting up Fisheye/Crucible user profile attributes
Step 4: Assigning groups to users
We will be setting up user group attributes for Fisheye. If your users are stored in a directory that is Read Only, please check Disable Group Mapping in User Groups tab and skip to Setting default group.




a. Finding Group Attribute

Just like we found Attribute Name for User Profile attributes, we find group attribute.
Go to Configure IDP tab. Scroll down and click on Test Configuration.
You will see all the values returned by your IDP to Fisheye/Crucible in a table. If you don't see value with groups, make the required settings in your IDP to return group names.
Once you see all the values in Test Configuration, keep the window open and go to User Groups tab.
Enter the Attribute Name of group against Group Attribute
At the bottom of the page, all groups in Fisheye/Crucible are shown. You can map groups in IDP which correspond to Fisheye/Crucible groups. For example, if you want all users in dev-ops and dev groups in IDP to be added to crucible-users, you will need to enter dev-ops;dev against crucible-users
If you want user mapping to work for only limited groups in Fisheye/Crucible, check the option Update User Groups



b. Setting default group

Select the users' Default Group in the tab User Groups. If no group is mapped, users are added by default to this group.
Step 5: SSO Settings
The settings in SSO Settings tab define the user experience for Single Sign On.


a. Sign In Settings

Set Enable SSO for Fisheye/Crucible Software to allow SSO for Fisheye/Crucible Software users.
Set button text for button on login page using Login Button Text
Set redirect URL after login using Relay State. Keep this empty for coming back to the same page user started from
Enable Auto-redirect to IDP if you want to allow users to login only using IDP. Enable backdoor for emergency



c. Sign Out Settings

Set Logout URL or Logout Template to redirect users after logout action.




d. SSO Error Settings

Set error template to redirect users to a custom error page instead of login page. Use this if you have Auto-redirect to IDP enabled.


If you are looking for anything which you cannot find, please drop us an email on info@xecurify.com