Fisheye/Crucible SAML app gives the ability to enable SAML Single Sign On for Fisheye/Crucible Software. Fisheye/Crucible Software is compatible with all SAML Identity Providers. Here we will go through a guide to configure SSO between Fisheye/Crucible and Shibboleth 2. By the end of this guide, Shibboleth 2 users should be able to login and register to Fisheye/Crucible Software.
Step 1: Setup Shibboleth2 as Identity Provider
In conf/relying-party.xml, configure Service Provider like this
<MetadataProviderxsi:type="InlineMetadataProvider" xmlns="urn:mace:shibboleth:2.0:metadata" id="MyInlineMetadata">
<EntitiesDescriptorxmlns="urn:oasis:names:tc:SAML:2.0:metadata">
<md:EntityDescriptorxmlns:md="urn:oasis:names:tc:SAML:2.0:metadata" entityID="<ENTITY_ID_FROM_PLUGIN>">
<md:SPSSODescriptorAuthnRequestsSigned="false" WantAssertionsSigned="true" protocolSupportEnumeration=
"urn:oasis:names:tc:SAML:2.0:protocol">
<urn:oasis:names:tc:SAML:1.1:nameidformat:emailAddress</md:NameIDFormat>
<md:AssertionConsumerService Binding="urn:oasis:names:tc:SAML:2.0:bindings:https-POST"
Location="<ACS_URL_FROM_PLUGIN>" index="1"/>
</md:SPSSODescriptor>
</md:EntityDescriptor>
</EntitiesDescriptor>
</MetadataProvider>
Make sure your Shibboleth server is sending Email Address of the user in Name ID. In attribute-resolver.xml, get the email attribute as Name ID:
<resolver:AttributeDefinitionxsi:type="ad:Simple" id="email" sourceAttributeID="mail">
<resolver:Dependency ref="ldapConnector" />
<resolver:AttributeEncoderxsi:type="enc:SAML2StringNameID" nameFormat="urn:oasis:names:tc:SAML:1.1:
nameid-format:emailAddress"/>
</resolver:AttributeDefinition>

In attribute-filter.xml, release the email attribute:
<afp:AttributeFilterPolicy id="releaseTransientIdToAnyone">
<afp:PolicyRequirementRulexsi:type="basic:ANY"/>
<afp:AttributeRuleattributeID="email">
<afp:PermitValueRulexsi:type="basic:ANY"/>
</afp:AttributeRule>
</afp:AttributeFilterPolicy>

Restart the Shibboleth Server.
You need to configure these endpoints in the Service Provider.

| | |
| --- | --- |
| IDP Entity ID | https://<your_domain>/idp/shibboleth |
| Single Login URL | https://<your_domain>/idp/profile/SAML2/Redirect/SSO |
| X.509 Certificate | The public key certificate of your Shibboleth server |
×
Step 2: Setup Fisheye/Crucible as Service Provider
With the inforamtion you have been given by your IDP team, you can configure IDP settings in 3 ways:
A.
By Metadata URL
Click on Import from Metadata in Configure IDP tab
Select IDP: Import From Metadata URL
Enter IDP metadata URL: Enter your metadata URL
If your IDP changes certificates at intervals, you can select Refresh metadata periodically. Select 5 minutes for the best results.
Click Import

B.
By uploading Metadata XML file
Click on Import from Metadata in Configure IDP tab
Select IDP: Import from Metadata File
Upload IDP metadata file
Click Upload

C.
Manual Configuration
Go to Configure IDP tab and enter the following details
IDP Entity ID
Single Sign On URL
Single Logout URL
X.509 Certificate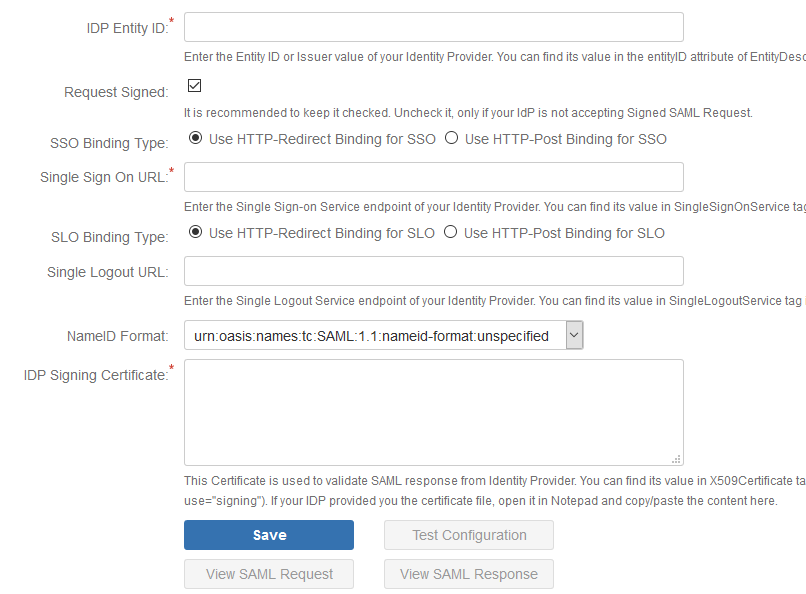 Step 3: Setting up Fisheye/Crucible user profile attributes
Step 4: Assigning groups to users
We will be setting up user group attributes for Fisheye. If your users are stored in a directory that is Read Only, please check Disable Group Mapping in User Groups tab and skip to Setting default group.




a. Finding Group Attribute

Just like we found Attribute Name for User Profile attributes, we find group attribute.
Go to Configure IDP tab. Scroll down and click on Test Configuration.
You will see all the values returned by your IDP to Fisheye/Crucible in a table. If you don't see value with groups, make the required settings in your IDP to return group names.
Once you see all the values in Test Configuration, keep the window open and go to User Groups tab.
Enter the Attribute Name of group against Group Attribute
At the bottom of the page, all groups in Fisheye/Crucible are shown. You can map groups in IDP which correspond to Fisheye/Crucible groups. For example, if you want all users in dev-ops and dev groups in IDP to be added to crucible-users, you will need to enter dev-ops;dev against crucible-users
If you want user mapping to work for only limited groups in Fisheye/Crucible, check the option Update User Groups



b. Setting default group

Select the users' Default Group in the tab User Groups. If no group is mapped, users are added by default to this group.
Step 5: SSO Settings
The settings in SSO Settings tab define the user experience for Single Sign On.


a. Sign In Settings

Set Enable SSO for Fisheye/Crucible Software to allow SSO for Fisheye/Crucible Software users.
Set button text for button on login page using Login Button Text
Set redirect URL after login using Relay State. Keep this empty for coming back to the same page user started from
Enable Auto-redirect to IDP if you want to allow users to login only using IDP. Enable backdoor for emergency



c. Sign Out Settings

Set Logout URL or Logout Template to redirect users after logout action.




d. SSO Error Settings

Set error template to redirect users to a custom error page instead of login page. Use this if you have Auto-redirect to IDP enabled.


If you are looking for anything which you cannot find, please drop us an email on info@xecurify.com