Fisheye/Crucible SAML app gives the ability to enable SAML Single Sign On for Fisheye/Crucible Software. Fisheye/Crucible Software is compatible with all SAML Identity Providers. Here we will go through a guide to configure SSO between Fisheye/Crucible and SimpleSAML. By the end of this guide, SimpleSAML users should be able to login and register to Fisheye/Crucible Software.
Pre-requisites
To configure SimpleSAML integration with Fisheye/Crucible SAML Single Sign On/SSO, you need the following items:
Fisheye/Crucible should be installed and configured(supported version 4.0.0-4.8.0)
Fisheye/Crucible Server is https enabled.
Admin credentials are set up in Fisheye/Crucible.
Valid Fisheye/Crucible Server Licence.
Download And Installation
Log into your Fisheye/Crucible instance as an admin.
Navigate to the settings menu and Click Add-ons.
Click or Find new add-ons from the left-hand side of the page.
Locate Fisheye/Crucible SAML Single Sign On/SSO via search.
Click Try free to begin a new trial or Buy now to purchase a license for Fisheye/Crucible SAML Single Sign On/SSO.
Enter your information and click Generate license when redirected to MyAtlassian.
Click Apply license.
Step 1: Setup SimpleSAML as Identity Provider
In config/config.php, make sure that 'enable.saml20-idp' is true. Example: 'enable.saml20-idp' => true
In metadata/saml20-idp-hosted.php, configure SimpleSAML as an Identity Provider like this: $metadata['__DYNAMIC:1__'] = array(
'host' => '__DEFAULT__',
/* X.509 key and certificate. Relative to the cert directory.*/
'privatekey' => '<YOUR_PRIVATE_KEY_FILE_NAME>',
//eg. RSA_Private_Key.pem 'certificate' => '<YOUR_PUBLIC_KEY_FILE_NAME>',
//eg. RSA_Public_Key.cer
/* Authentication source to use. Configured in 'config/authsources.php'. */
'auth' => '<YOUR_AUTH_SOURCE_NAME>',
);
In metadata/saml20-sp-remote.php, register your Servider Provider like this:
/* Replace example.com with your wordpress domain name. */ $metadata['https://example.com/wp-content/plugins/miniorange-saml-20-single-sign-on/'] = array(
'AssertionConsumerService' => 'https://example.com/',
'SingleLogoutService'      => 'https://example.com/',
'NameIDFormat' => 'urn:oasis:names:tc:SAML:1.1:nameid-format:emailAddress',
'simplesaml.nameidattribute' => 'mail',
'simplesaml.attributes'      => true, 
'attributes' => array('mail', 'givenname', 'sn', 'memberOf'),
);
Step 2: Setup Fisheye/Crucible as Service Provider
With the inforamtion you have been given by your IDP team, you can configure IDP settings in 3 ways:
A.
By Metadata URL
Click on Import from Metadata in Configure IDP tab
Select IDP: Import From Metadata URL
Enter IDP metadata URL: Enter your metadata URL
If your IDP changes certificates at intervals, you can select Refresh metadata periodically. Select 5 minutes for the best results.
Click Import

B.
By uploading Metadata XML file
Click on Import from Metadata in Configure IDP tab
Select IDP: Import from Metadata File
Upload IDP metadata file
Click Upload

C.
Manual Configuration
Go to Configure IDP tab and enter the following details
IDP Entity ID
Single Sign On URL
Single Logout URL
X.509 Certificate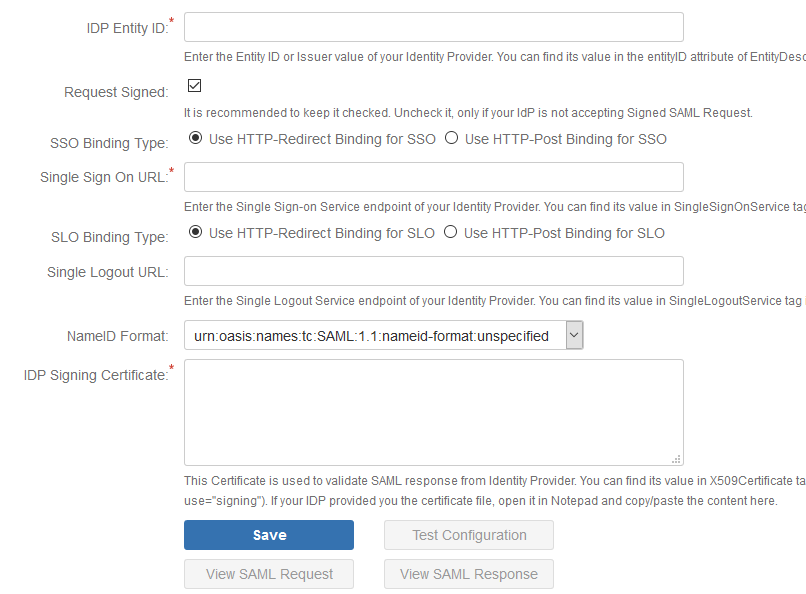 Step 3: Setting up Fisheye/Crucible user profile attributes
Step 4: Assigning groups to users
We will be setting up user group attributes for Fisheye. If your users are stored in a directory that is Read Only, please check Disable Group Mapping in User Groups tab and skip to Setting default group.




a. Finding Group Attribute

Just like we found Attribute Name for User Profile attributes, we find group attribute.
Go to Configure IDP tab. Scroll down and click on Test Configuration.
You will see all the values returned by your IDP to Fisheye/Crucible in a table. If you don't see value with groups, make the required settings in your IDP to return group names.
Once you see all the values in Test Configuration, keep the window open and go to User Groups tab.
Enter the Attribute Name of group against Group Attribute
At the bottom of the page, all groups in Fisheye/Crucible are shown. You can map groups in IDP which correspond to Fisheye/Crucible groups. For example, if you want all users in dev-ops and dev groups in IDP to be added to crucible-users, you will need to enter dev-ops;dev against crucible-users
If you want user mapping to work for only limited groups in Fisheye/Crucible, check the option Update User Groups



b. Setting default group

Select the users' Default Group in the tab User Groups. If no group is mapped, users are added by default to this group.
Step 5: SSO Settings
The settings in SSO Settings tab define the user experience for Single Sign On.


a. Sign In Settings

Set Enable SSO for Fisheye/Crucible Software to allow SSO for Fisheye/Crucible Software users.
Set button text for button on login page using Login Button Text
Set redirect URL after login using Relay State. Keep this empty for coming back to the same page user started from
Enable Auto-redirect to IDP if you want to allow users to login only using IDP. Enable backdoor for emergency



b. Custom Login Templete

Set custom login template to redirect users to a custom login page instead of Confluence default login page. This won't work if you have Auto-redirect to IDP enabled.
Don't forget to copy default login page URL in case of emergency.



c. Sign Out Settings

Enter a custom logout URL to redirect your users to a pre-defined logout page
Set a custom logout template to show custom logout page to users on logout.



d. SSO Error Settings

Set error template to redirect users to a custom error page instead of login page. Use this if you have Auto-redirect to IDP enabled.




e. Advanced Settings

Remember Me: If enabled, user stays logged in until user explicitly logs out.
You can extend Confluence default session timeout using these steps. By default it is set to 60 mins.
Validate IDP's SAML Response: Configure time difference(in minute) here In case Confluence server time is not in sync with your IDP's time.