Mindbody is a U.S based SaaS (software-as-a-service) business management company that helps in providing online wellness services to people. miniOrange SSO solution allows you to authenticate your users using MindBody credentials to login into multiple applications, In this case it will be WordPress. This way, you can achieve MindBody Single Sign-On (SSO) into your applications where the users will need to authenticate themselves with MindBody only once and they can access all the configured applications. To know more about other features we provide in WP OAuth Single Sign-On ( OAuth & OpenID Connect Client ) plugin, you can click here.
Pre-requisites : Download And Installation
Log into your WordPress instance as an admin.
Go to the WordPress Dashboard -> Plugins and click on Add New.
Search for a WordPress OAuth Single Sign-On (SSO) plugin and click on Install Now.
Once installed click on Activate.
How does MindBody SSO work?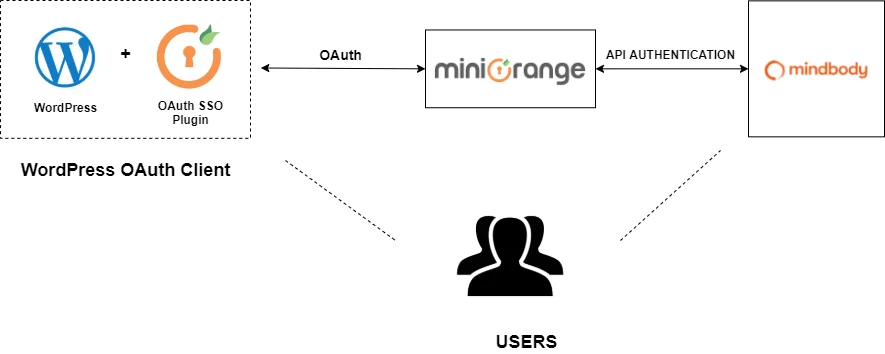 Consider a scenario in which a user wants to login into your WordPress site using MindBody's login credentials. We will connect WordPress to Mindbody using the miniOrange IDP broker service via the API Authentication method. Here when the user clicks on the SSO login button in WordPress, User will be redirected to a login page and the UI and branding of this login page is customizable according to the customers' needs. On the login page, when the user enters his username and password, miniOrange will authenticate that by calling MindBody API's on the backend and after successful authentication, the success response is passed to the miniOrange IDP by that MindBody's API. Then miniOrange IDP will then send that success response to the WordPress SSO plugin and with the help of the plugin, the user will be logged in to your WordPress site. Hence users can use MindBody Single Sign-On credentials to login into the WordPress site. Furthermore, If you want a user to use your existing WordPress login page, then you can also directly use our WordPress SSO Plugin which will give you out of the box integration with Mindbody. .
Steps to configure Mindbody Single Sign-On (SSO) Login into WordPress
1. Configure Mindbody as an API authentication source in miniOrange
API Authentication is the method or process by which a user's identity is verified and recognized. The credentials provided are usually verified against a user store like database, active directory, file etc. In this case, the users will be verified against MindBody 's user database by calling Minbody's APIs for authentication. API is the interface that allows access to protected resources at the request of a user. With remote access to resources, it becomes necessary to ensure that only the authorized users have access to the resources.
Setup Custom API authentication source in miniOrange:
Acquire API endpoint information from MindBody.
Setup custom API authentication in miniOrange.
Here API identifier name and User Authentication URL is required.
Note: All the user credentials are stored in MindBody itself. MiniOrange IDP does not store any passwords.
In this step, We have successfully connected the MindBody to miniOrange IDPs Broker service.
2.Configure WordPress As OAuth Application in miniOrange
Now we need to connect WordPress to the miniOrange Broker service. For that, you need to configure WordPress as your OAuth client and miniOrange as an OAuth server to enable MindBody Single Sign-On (SSO). Like WordPress, you can also configure the Single SIgn-On with MindBody on other platforms like Joomla, Atlassian, Drupal, Shopify etc. Here you can log in to your miniOrange IDPs Admin Console and in manage apps, you can create an app under OAuth/OIDC. As we are looking at WordPress SSO in this example, you can select WordPress as your application. Furthermore, you will be required to have a client name and redirect URL which will redirect you to your WordPress site after successful Authentication from miniOrange.
In this step, We have successfully connected the WordPress to miniOrange IDPs Broker service.
3. Login in WordPress using MindBody's Credentials
Once the setup is complete you can log in through your WordPress site using MindBody's login credentials. On the WordPress site, you can provide an SSO button such as 'Login with MindBody' so that users can login into your site using MindBody's credentials.
We have successfully configured MindBody SSO for the WordPress site. Now users can log in to the site using MindBody's credentials.
Additional Resources
Mail us on oauthsupport@xecurify.com for quick guidance(via email/meeting) on your requirement and our team will help you to select the best suitable solution/plan as per your requirement.