Drupal Single Sign On (SSO) using ADFS as IdP | Step by Step Guide
Active Directory Federation Service (ADFS) is a software component developed by Microsoft to provide Single Sign-On (SSO) authorization service to users on Windows Server Operating Systems. ADFS allows users across organizational boundaries to access applications on Windows Server Operating Systems using a single set of login credentials.
ADFS can now be used as an IdP in order to log in to Drupal (SSO)
Step 1: In the Identity Provider tab of the plugin, click on the metadata URL and save the data as an XML file.
Follow the steps below to configure miniOrange as OAuth/OpenID Provider

Step 2: In ADFS, click on Add Relying party Trust. Then click on Start.
Step 3: In Specify Display name: Enter Display name. Click Next.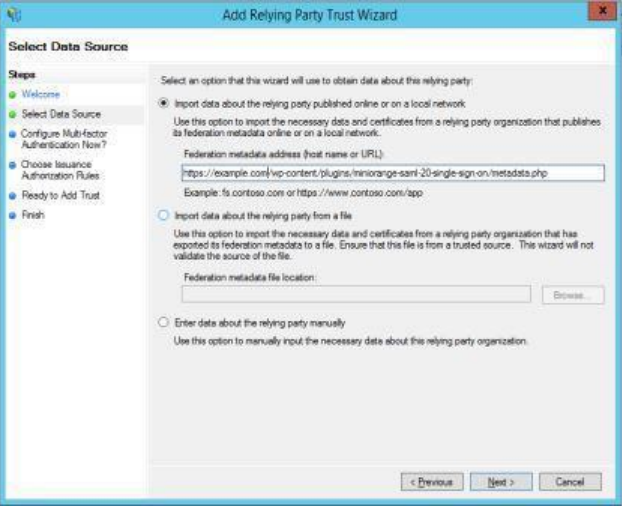 Step 4: In Configure Multi-factor Authentication Now, select I do not want to configure multi factor authentication settings for this relying party trust. Click Next.
Step 5: In Choose Issuance Authorization Rules, select Permit all users to access this relying party. Click Next.
Step 6: In Ready to Add Trusts, select click Next.
Step 7: Check Open the Edit Claim Rules dialog and click close. Click Add rule and then select Send LDAP Attributes as Claims. Enter the following:
Claim rule name: Attributes.
Attribute Store: Active Directory.
LDAP Attribute: E-Mail-Addresses.
Outgoing Claim Type: Name ID Click Finish.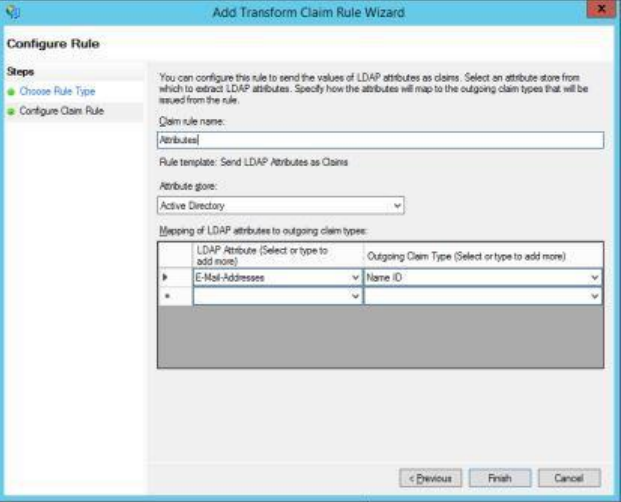 Step 8: In miniOrange SAML module, go to Service Provider Setup tab. Enter the following values:
| | |
| --- | --- |
| Identity Provider Name: | ADFS |
| SAML Login URL: | https:///adfs/ls |
| SAML Logout URL: | https:///adfs/ls |
| IdP Entity ID: | http:///adfs/services/trust |
| X.509 Certificate: | Paste the certificate value you copied from the ADFS Metadata file. |
| Response Signed: | Unchecked |
| Assertion Signed: | Checked |
| Enable Login with SAML: | Checked |