Our client operates a gaming site with a membership/loyalty system centered around monthly tiered subscriptions. The purpose of this setup is to provide users with incentives and benefits when purchasing products on their platform. Users are encouraged to purchase monthly tiered subscriptions, which grant them discounts on various items available on the site, such as Game Digital codes or Gaming Accessories.
As part of the membership subscription, users receive an NFT (Non-Fungible Token) that unlocks access to even greater discounts on products. The NFT is tied to its membership tier, with four tiers available. Each tier offers escalating rewards and discounts. For instance, users holding a Tier 3 NFT would consistently enjoy a 30% discount on their purchases.
Their NFTs are on the XRPL blockchain and they want support for XUMM Wallet which is an XRPL Wallet.
By utilizing our Web3 Authentication and Token Gating plugin along with the WooCommerce Coupon Mapping addon, you can accomplish this goal effortlessly. With this combination of plugins, the admin has the ability to create WooCommerce Coupons and map them to specific NFTs using our addon.
Once a user connects their wallet and verifies NFT Ownership, our system grants them access to the corresponding coupon. This enables them to redeem the coupon and enjoy discounts on the products in their cart during checkout.
We offer this seamless integration of Web3 authentication and coupon mapping to enhance your user experience and provide personalized discounts based on NFT ownership.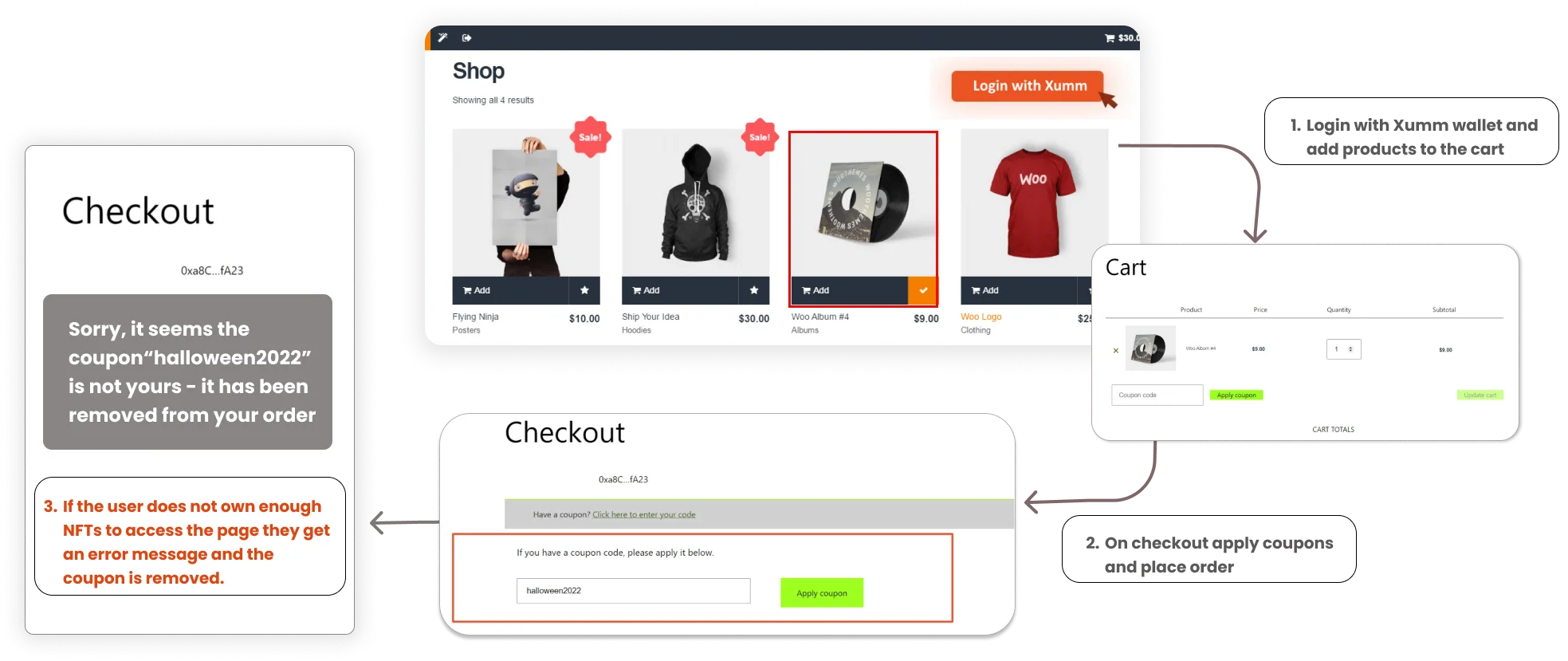 You might be curious about how an Web3 Authentication Workflow works. However, there is a logical framework that acts as the backbone underneath all of the artwork and design elements.
When a user tries to access the gated content, a login button appears that asks them to log in using their cryptowallet. During the authentication process, the user's NFT/token balance is checked, and based on the tokens/NFT they hold, it is determined whether they will be granted access to the gated content or not. New NFT/token data is fetched each time during the authentication process.
There are numerous special benefits to using the XRP Ledger (XRPL) for an NFT (Non-Fungible Token) marketplace that can improve the usability, security, and effectiveness of NFT transactions. Here is how an NFT marketplace developed on the XRPL may be a useful application:
1. Quick and Effective Transactions:
The XRPL is renowned for its high throughput and quick confirmation times for transactions. For NFT marketplaces where consumers want to purchase, sell, and exchange NFTs quickly, this speed is essential. Users can benefit from almost instantaneous transaction settlements, ensuring a smooth transaction for both buyers and sellers.
2. Low Transaction Costs:
Due to network congestion, NFT transactions on some other blockchains might result in high gas fees. Because of its distinctive consensus mechanism, XRPL is a desirable choice for NFT marketplaces that aim to provide their users with low-cost transactions.
3. Interoperability with FIAT and Other Currencies:
The XRPL permits the creation and exchange of a number of other assets, including tokens backed by fiat currency. Because of this feature, NFT marketplaces can support several currencies, letting customers buy NFTs with both cryptocurrencies and conventional fiat money.
4. Decentralised Ownership and Provenance:
On the XRPL, NFTs can be moved across wallets while preserving their distinct ownership histories. As a result, NFTs' provenance is guaranteed, increasing their value and authenticity. Decentralized ownership records also do away with the need for middlemen, giving users a safe and transparent platform to buy and trade NFTs.
5. Secure and Immutable Transactions:
XRPL is a secure platform for recording NFT transfers because its consensus process assures that transactions cannot be modified. For NFT marketplaces to avoid unauthorized modifications to ownership information, this security is crucial.
Creating an NFT marketplace on the XRPL, in conclusion, has advantages like quick and effective transactions, cheap fees, interoperability, decentralized ownership, secure transactions, and smart contract capabilities. For both NFT buyers and sellers, these benefits may lead to an improved user experience, greater trust, and greater efficiency. Utilizing the advantages of the XRPL can give NFT marketplace operators a competitive edge as the NFT market continues to develop and can aid in the widespread adoption of blockchain-based NFTs.
Step 1: Creation and Minting
Artists, content creators, and innovators craft unique digital creations, whether they're artwork, collectibles, music, videos, or even virtual real estate. These digital assets are then minted on the blockchain encapsulating their authenticity and uniqueness in the form of an NFT.
Step 2: Listing and Auctions
Owners can list their NFTs by curating the presentation with descriptions, multimedia, and even interactive elements on the NFT marketplace using native tokens as well as custom tokens.
Step 3: Ownership Transfer
Owners can choose to transfer their NFTs to others. In this blockchain technology ensures that this ownership is unequivocally proven, with ownership records that are immutable, tamper-proof, and easily verifiable.
Step 4: Secondary Markets and Trading
Creators and collectors can come together to showcase their NFTs, discuss trends, and immerse themselves in the world of digital creativity.