Introduction to Shopify and HubSpot Integration for Order and Deal Sync Solution
The purpose of this article is to outline the use cases and functionality of the Shopify and HubSpot integration for Shopify order and HubSpot deal sync solution. The integration aims to synchronize order data between the two platforms (Shopify and HubSpot) and provide the capability to define and apply various filters for data synchronization using WorkFlow automation.
The Shopify and HubSpot integration application for order sync allows users to seamlessly synchronize data between their Shopify e-commerce store and their HubSpot CRM system. The integration enables data transfer for various entities, such as customers, orders, products, and more.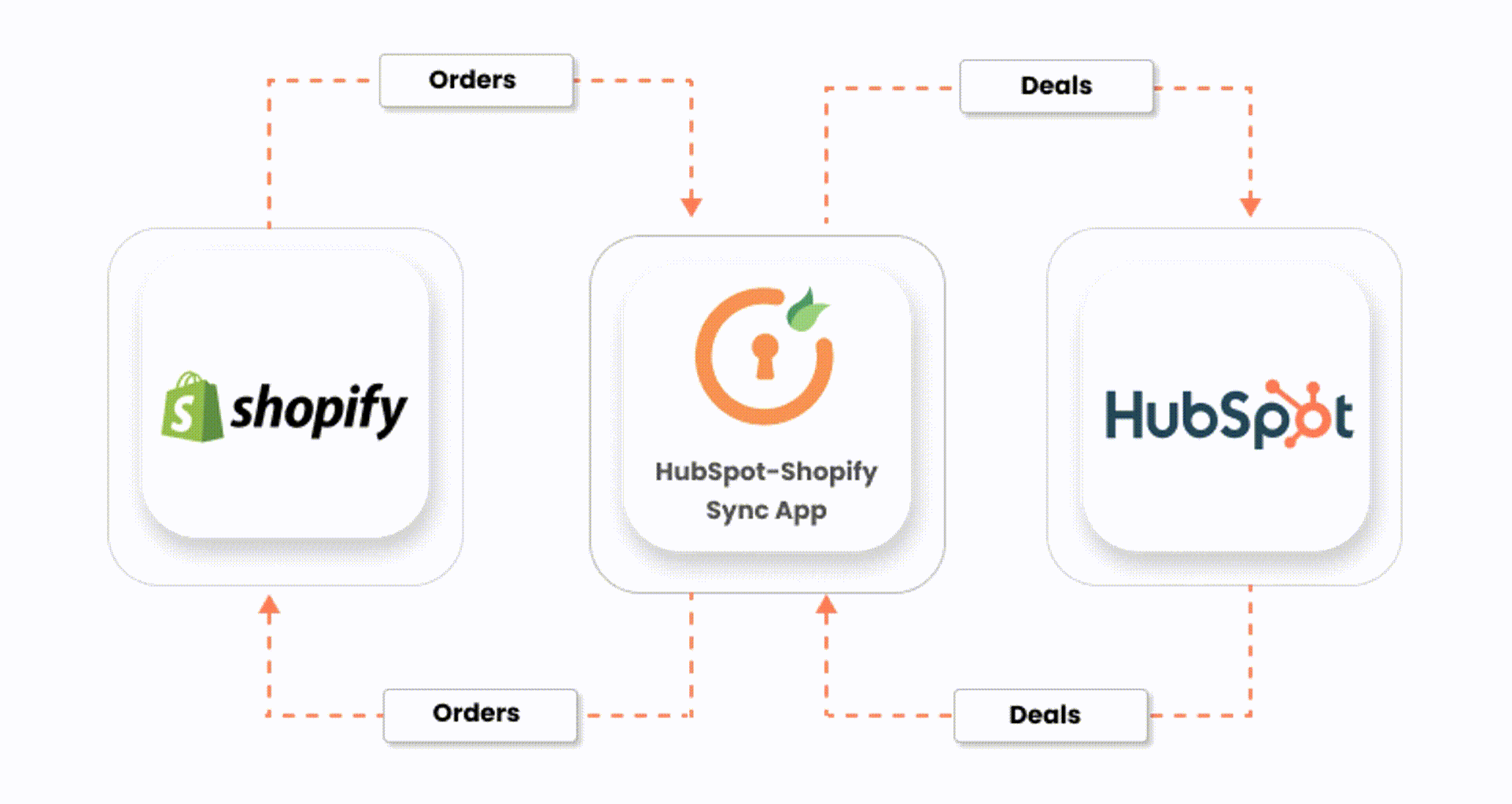 Customers visit the Shopify e-commerce store and browse through the products and services available. They add items to their cart, review product details, and proceed to checkout with ease.
Upon completing the purchase, the order information is automatically recorded in the Shopify system.
As the integration is in place, if the customers' order details meet the set filter criteria, then it is efficiently synchronized with HubSpot CRM as a deal in real-time. HubSpot updates the data, allowing businesses to gain insights and offer personalized services.
Using HubSpot's CRM capabilities, businesses can communicate with customers more effectively. Customers receive personalized emails, updates, and promotions based on their preferences and previous interactions.
Any changes to orders or delivery status are efficiently updated in both systems, ensuring customers are always informed.
If an administrator creates a deal in HubSpot, then it will be sent to Shopify as an order in real-time as the Shopify - HubSpot integration is in place.
Key Features
Order synchronization: The solution facilitates the synchronization of Shopify Order data between Shopify and HubSpot, ensuring that both platforms are up to date with the latest information.
Association Sync: Sync the related associations as well along with deals and order including customer billing and shipping data, company data, and line items data.
Attributes/Property Mapping: Configure and map the Orders and Deals attributes/ properties between the apps which you want to sync as per your requirements like name, id, customer information, amount, tax, date, shipping charges, and even custom attributes/properties.
Workflow and Filter Configuration: Administrators can define filters based on specific criteria to control which order data is synchronized between the two platforms. This ensures that only relevant and necessary data is transferred. For example - The order from Shopify should be created as a deal if the amount of the order is greater than $1000. Similarly, you can define more filters and create workflows.
Automated Real-Time Syncing: The integration supports automated syncing in real-time whenever an event occurs related to deals and orders on the platforms.
Audit Data Flow: This feature allows you to track the sync and its data and can be used to analyze it further as well.
How to set up Shopify and HubSpot Integration for Order and Deal Sync?
1. Access Integration Settings Admin navigates to their HubSpot platform and installs the miniOrange Sync application. In the settings or integration section, the admin looks for the Shopify and HubSpot integration options.

2. Connect Shopify and HubSpot Accounts The admin initiates the integration process by clicking on the "Connect" button. A prompt asks the admin to log in to their HubSpot account if they haven't already done so. The admin grants necessary permissions and authorizations to establish the connection between the two platforms.

3. Configure Synchronization Preferences Once the integration is established, the admin is presented with synchronization preferences and settings. Admin selects the entities they wish to synchronize, such as customers, orders, products, etc. Customizable filters are provided, allowing the admin to define specific criteria for data synchronization.

4. Enjoy Seamless Data Synchronization With the integration successfully configured and running, the admin can now enjoy seamless data synchronization between Shopify and HubSpot. All relevant data, such as customer information, orders, and product details, will be consistently up-to-date across both platforms.

You can refer to the detailed setup guide by clicking here.
Benefits of miniOrange Shopify - HubSpot data sync application.
1. Order Data Synchronization

Admin (Shopify store owner) wants to sync order data from their Shopify store to HubSpot for sales and marketing analysis. By syncing order data from Shopify to HubSpot, the admin can consolidate and centralize their customer and sales information in one system (HubSpot). This integration enables a more holistic view of customer interactions and helps the admin to make data-driven decisions for improving sales and marketing strategies.

For example, the admin could run reports in HubSpot to analyze which marketing campaigns have resulted in the most sales (the origin of the customer can also be identified. Example Instagram, Website, or some other Ecommerce site), identify high-value customers, or segment customers based on their purchasing behavior. These insights can then be used to optimize marketing efforts, personalize customer interactions, and ultimately increase sales and customer satisfaction.

The Shopify and HubSpot Order sync application offers a powerful and seamless solution that enables businesses to efficiently synchronize order and deals data between two crucial platforms - Shopify, the leading e-commerce platform, and HubSpot, a comprehensive CRM system. By integrating these platforms, businesses gain access to a range of benefits, particularly through the use of data filtering, which ensures that only pertinent and precise information is exchanged between the systems. This, in turn, leads to a host of advantages that positively impact marketing, sales, and overall operational efficiency.




2. Data-Driven Decision Making

The integration enables businesses to leverage data as a valuable asset for strategic decision-making. By analyzing the synchronized Shopify order data into HubSpot, stakeholders can identify trends, assess the effectiveness of marketing campaigns, and evaluate the performance of different products or product categories.

With access to comprehensive data reports and analytics in HubSpot, management can make informed decisions to optimize business processes, allocate resources efficiently, and drive growth.

In conclusion, the seamless synchronization of Shopify order data in HubSpot, coupled with the power of data filtering, empowers businesses to harness the full potential of their e-commerce and customer information. The integration not only strengthens marketing and sales efforts but also streamlines operations and fosters a more customer-centric approach. By making data-driven decisions, businesses can stay ahead of the competition, enhance customer satisfaction, and achieve sustainable growth.
Conclusion
The Shopify and HubSpot integration application provides a seamless solution for synchronizing order data between two essential platforms, allowing businesses to leverage data filtering to ensure relevant and accurate information is exchanged. This integration enhances marketing and sales efforts, streamlines operations, and improves overall efficiency in managing e-commerce and customer data.