The application programming interface (API) is the interface through which users can request access to protected resources. They must be equipped to ensure that applications and clients attempting to access data are authentic before proceeding to authorized full access once identity is confirmed. When a user tries to log in to a Shopify store with his existing credentials (username and password) stored in the application userbase, the miniOrange single sign-on (SSO) login app makes an API call to the user's database for authentication, and his credentials are checked against the application user base. The user is granted access to the store if the response received from the application userbase is successful otherwise, access is denied. You can use this method to integrate Single Sign-On (SSO) into your Shopify Store, allowing users to authenticate via your user authentication API and allow access to the Shopify store.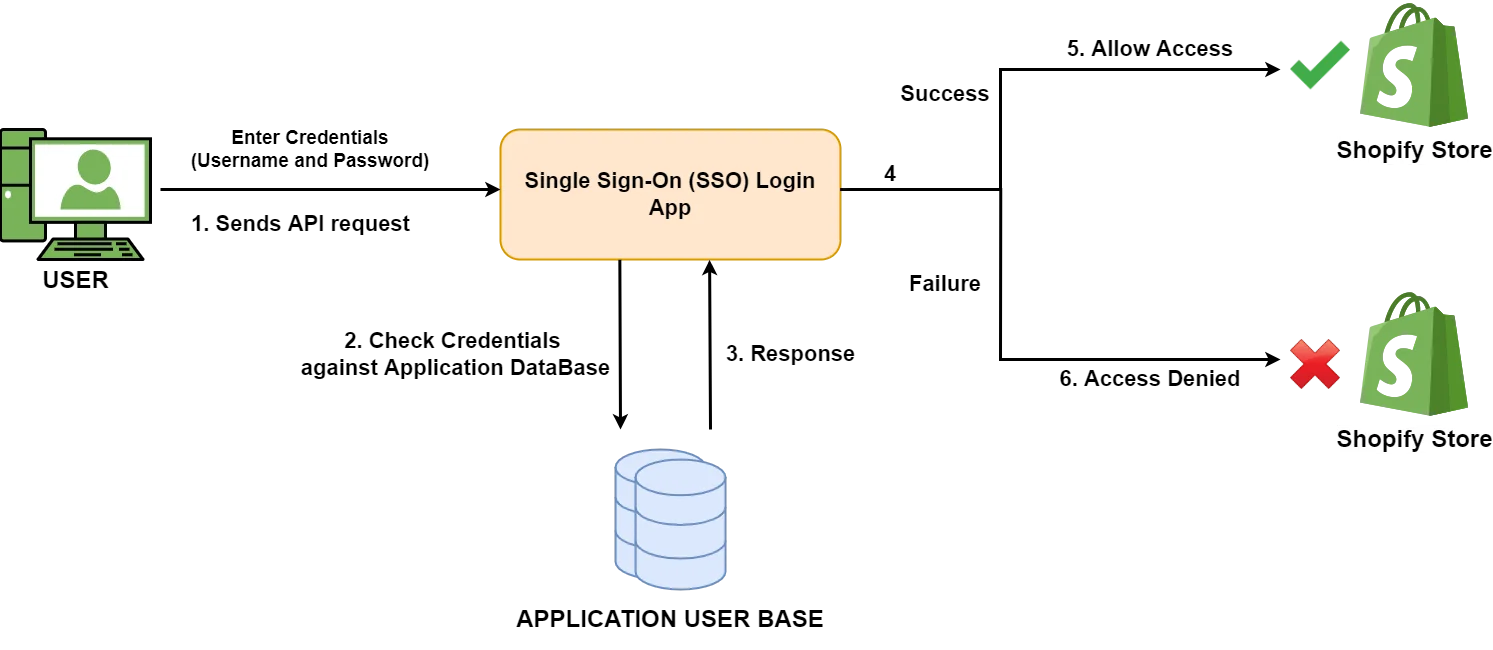 Consider a Company (Company A) has its users stored in the company database which is connected to their JAVA or any other tech stack application. They have API-based authentication for allowing the users to get logged in. The company has opened a Shopify store and they want to integrate SSO into the Shopify store. They don't know whether they need to integrate APIs in Store. SSO Application is a solution to their problem. The users can SSO into the store using their existing credentials present in the Company Database and if they are successfully authenticated then they will get logged in.
Pre-requisite : Single Sign On - SSO Application
To configure Shopify SSO using API Authentication, you will need to install the miniOrange Shopify Single Sign On - SSO Login on your Shopify store:
miniOrange provides secure Single Sign-On (SSO) access to your Shopify Stores (both Plus and Non plus Stores).
Step by Step guide for Configuring SSO into Shopify using API Authentication
1. Setup Custom API authentication source in miniOrange Single Sign-On (SSO) Login App in Shopify
Login into your Shopify account. Now navigate to the App section and click on Single Sign On - SSO Login App.
Click on Setup IDP button in the top left in navigation bar.
Navigate to User Stores and click on the Add User Store button.
Switch to the API tab and select Custom API from the dropdown.
Provide an API identifier name.
Under the Authentication Configuration section, paste the User Authentication URL that you copied in step 1 above.
You can pass API key via two different methods i.e. Request Header or Request Body.
In this method, The API key is sent as "Authorization_key" via request header. You can refer to the example below.
In this method, The API key is sent as "api_key" parameter in the POST body as JSON.
To configure your provider to send API key as a field in request body, you can refer below.
Step 2. Test Connection
To test the connection, select the user store you just added and click on Test Authorization API.

Enter your credentials when prompted and you should be able to see a success message.

3. Testing SSO for your Shopify Store
Go to your Shopify Store login page.(https://<your-shopify-storedomain>/account/login)
Click on the login button you customized earlier.
You'll be redirected to the login page of the IDP you configured in previous step. Log in with your IDP account credentials.
You'll be successfully logged in to your Shopify store.
Hence you have successfully configured Shopify Single Sign-On (SSO) using API Authentication.
Additional Resources
If you are looking for anything which you cannot find, please drop us an email on shopifysupport@xecurify.com.