The purpose of this guide is to help you setup OTP Verification for your Caldera Forms.
Download Caldera Forms Plugin by clicking here.
HOW TO SETUP OTP VERIFICATION FOR CALDERA FORM
Email and Verification field
Phone and Verification field
Take Note of the ID of the fields generated as shown below.

Get the ID of the form fields generated and place all the IDs in the form setting page as shown below.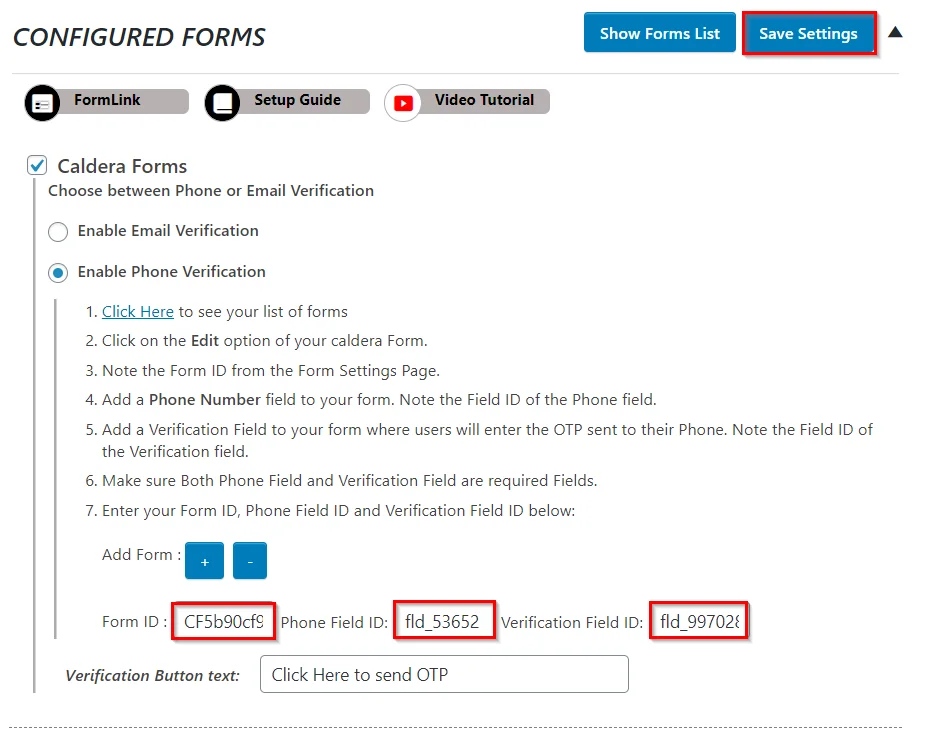 Go to your caldera form page, fill all the required field and Click on "Click Here to send OTP".
Enter the OTP received in the Verification Field and click on Send Messsage.
HOW TO CHANGE THE BODY/TEXT OF THE SMS AND EMAIL GOING OUT
Yes, it is possible to customize both the Email and SMS OTP Message that goes out to your users. The steps vary depending on the plan you are on.
For miniOrange Gateway Plan:
If you are on the miniOrange Gateway Plan then click here and follow the steps given.
For Your Gateway Plan:
If you are on the Your Gateway Plan then just follow the steps given under the SMS/Email Config Tab of the plugin to customize the message going out in the Email or SMS.
HOW TO CHANGE THE DESIGN OF THE OTP POPUP
Go to Pop-up Design Section in the plugin settings.
Choose your Pop-up and modify the HTML, CSS and JavaScript to match your site branding/design.
HOW TO SHOW A COUNTRY CODE DROP-DOWN ON YOUR CALDERA FORM
Go to the OTP Settings Section in the plugin.
Under the Country Code section choose your Country which will be set as default.
Select the "Show a country code dropdown on the phone field."option to show a country code drop-down on your form