The purpose of this guide is to help you setup OTP Verification for your Ultimate Member Profile/Account form.
HOW TO SETUP THE PLUGIN FOR ULTIMATE MEMBER PROFILE/ACCOUNT PAGE
1. Go to Forms Section in the plugin.

2. Search and Select Ultimate Member Profile/Account form from the list.

3. Click on Ultimate Member Profile/Account form.

4. Enable the Checkbox and choose between Account Page ( Email Verification ) or Profile Page ( Phone Verification ) or both for profile and account pages.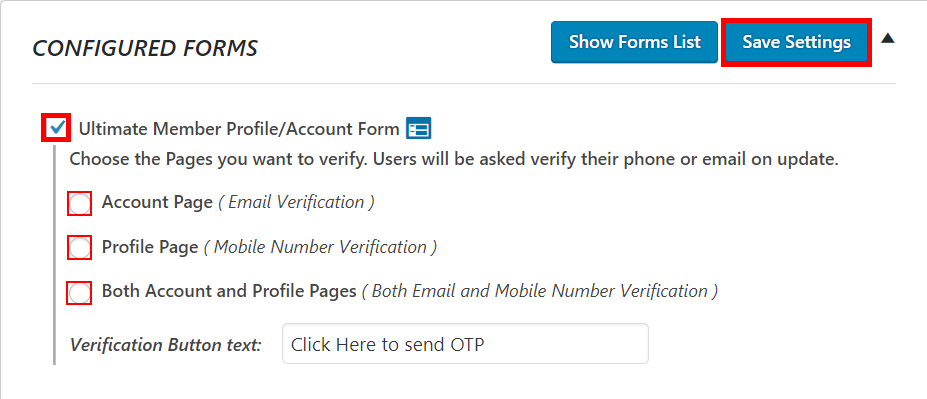 5. For "Profile Page ( Mobile Number Verification )" you will need to put the phone meta key against which phone numbers are stored.

     The meta key should match with the meta key as set up for Ultimate Member Registration Form.
6. Go to your Ultimate Member Profile/Account Form Page.
7. If you change the Email Address or Phone Number then a field should pop-up asking you to verify yourself. Click on "Click here to send otp" .
    Enter the OTP received and click on "Update Account" or "Update Profile".
8. Account form.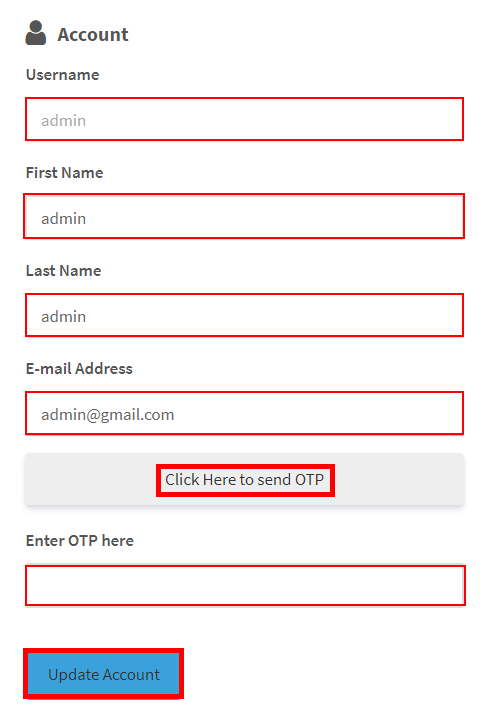 9.Profile form.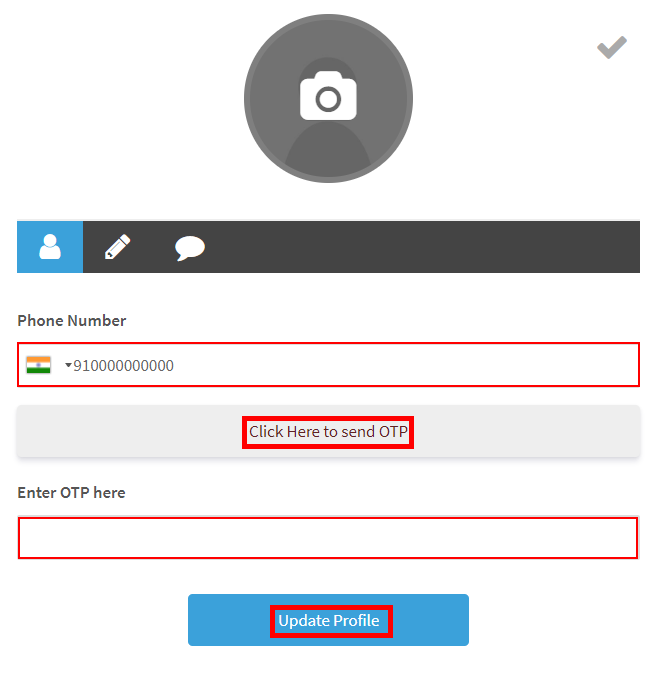 10. On successful verification user should get update successfully.
IS IT POSSIBLE TO RESTRICT THE USER TO USE THE SAME PHONE NUMBER FOR MULTIPLE ACCOUNT
1. Select the following option to restrict users to use the same phone number for multiple accounts

HOW TO CHANGE THE BODY/TEXT OF THE SMS AND EMAIL GOING OUT
Yes, it is possible to customize both the Email and SMS OTP Message that goes out to your users. The steps vary depending on the plan you are on.
For miniOrange Gateway Plan:
If you are on the miniOrange Gateway Plan then click here and follow the steps given.
For Your Gateway Plan:
If you are on the Your Gateway Plan then just follow the steps given under the SMS/Email Config Tab of the plugin to customize the message going out in the Email or SMS.

HOW TO SHOW A COUNTRY CODE DROP-DOWN ON MY
ULTIMATE MEMBER PROFILE/ACCOUNT FORM
1. Go to the OTP Settings Section in the plugin.

2. Under the Country Code section choose your Country which will be set as default.
3. Select the "Show a country code dropdown on the phone field." option to show a country code drop-down on your form.