The purpose of this guide is to help you setup OTP Verification for your WordPress Login Forms.
Currently the following Login Forms are supported: 
WordPress Default Login Form

Ultimate Member Login Form

WooCommerce Login Form
HOW TO SETUP THE PLUGIN FOR WORDPRESS LOGIN FORMS
1. Go to Forms Section in the plugin.

2. Search and Select WordPress Login Form from the list.

3. Click on WordPress Login Forms registration form.

4. Enable the Checkbox and choose between Email or Phone Verification.

5. Email Verification is straightforward.
    For Phone Verification click on "Enable Phone Verification" option and put the phone meta key.
     This meta_key is the key against which the user's phone number is stored in the wp_usermeta table.

6. Go to your login page, fill all the required fields and click on the Login button.
7. A pop-up should come up asking you to verify yourself. Enter the OTP received and click on Validate OTP.
8. On successful verification user should get logged in successfully.
PREVENT USERS FROM USING THE SAME PHONE NUMBER FOR MULTIPLE ACCOUNTS
1. Select the following option to restrict the user use the same phone number for multiple accounts.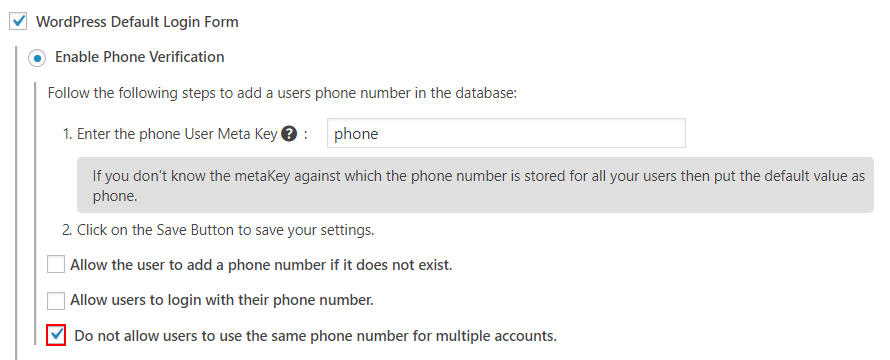 IS IT POSSIBLE TO ALLOW THE USERS TO ADD A PHONE NUMBER IF IT DOES NOT EXIST
1. Select the following option to allow the user to add a phone number if does not exist during login.


HOW TO BYPASS OTP VERIFICATION DURING LOGIN WITH EMAIL VERIFICATION
1. Select the following option to allow
the administrator to bypass OTP verification during login.


IS IS POSSIBLE USE OTP INSTEAD OF PASSWORD DURING LOGIN WITH EMAIL VERIFICATION
1. Select the following option to skip password and use OTP instead for login.

     With this option users would enter their username + OTP for login instead of username + password.

HOW TO CHANGE THE BODY/TEXT OF THE SMS AND EMAIL GOING OUT
Yes, it is possible to customize both the Email and SMS OTP Message that goes out to your users. The steps vary depending on the plan you are on.
For miniOrange Gateway Plan:
If you are on the miniOrange Gateway Plan then click here and follow the steps given.
For Your Gateway Plan:
If you are on the Your Gateway Plan then just follow the steps given under the SMS/Email Template Tab of the plugin to customize the message going out in the Email or SMS.
HOW TO CHANGE THE DESIGN OF THE OTP POPUP
1. Go to Pop-up Design Section in the plugin settings.

2. Choose your Pop-up and modify the HTML, CSS and JavaScript to match your site branding/design.