Step 1: Setup miniOrange as Identity Provider
Follow the steps below to configure miniOrange as an Identity Provider

Creating App in miniOrange
Go to miniOrange Admin console https://login.xecurify.com/moas/login and login with your miniOrange credentials.
Go to Apps >> Manage Apps.



Click on Add Applicaton button.



In Choose Application Type click on Create App button in SAML/WS-FED application type.



In the next step, search for your application from the list, if your application is not found. Search for "custom" and you can set up your app via Custom SAML App.
Method 1: Manual Configuration

Enter the following the textboxes:

| | |
| --- | --- |
| Custom Application Name | App name you like to provide. |
| SP Entity ID or Issuer | Enter SP Entity ID / Issuer from Service Provider Info tab of the plugin |
| ACS URL | Enter ACS (Assertion Consumer Service) URL from Service Provider Info tab of the plugin |
| Single Logout URL | Enter Single Logout URL from Service Provider Info tab of the plugin |
Method 2: Import SP Metadata:


You can also import SP metadata to configure your app.
Click on Import SP Metadata button.
Enter your Custom Application Name in App Name text box.
Upload plugin metadata in form of text, File or URL and Click Import.
Name ID Setup And Attribute Mapping :


Enter the attribute name with which you want to log in your application in NameID field.. eg.Username, Email etc.
Enter name ID format such as emailAddress, nameid etc. in Name ID Format.
Attributes can be mapped using Add Attribute tab.
Add attributes such as first name, last name, group Name, etc.with its corresponding value as per shown in image.
Multiple attributes can be added using icon
Select Default from the Group Name dropdown.
Enter Policy Name you would like to provide.
Select Password from the Login Method Dropdown.
Click on Save to add the App.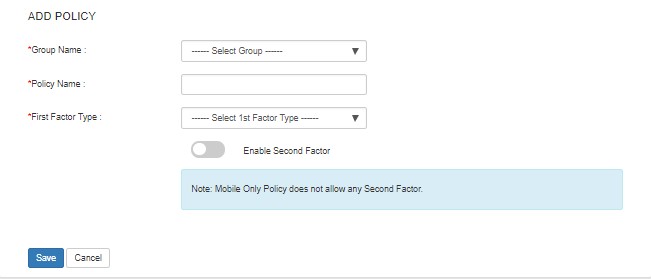 Navigate to Apps Manage Apps.
Click on the metadata link against your app.
Download the Metadata XML File or note down the given information and keep it handy to configure the add-on.
You can also provide Metadata URL in plugin settings.