Add Social Login Icons on Eduma Theme Login/Registration Pop-up:
Below image shows How Social Login Icons looks on Eduma theme Login Pop-up Window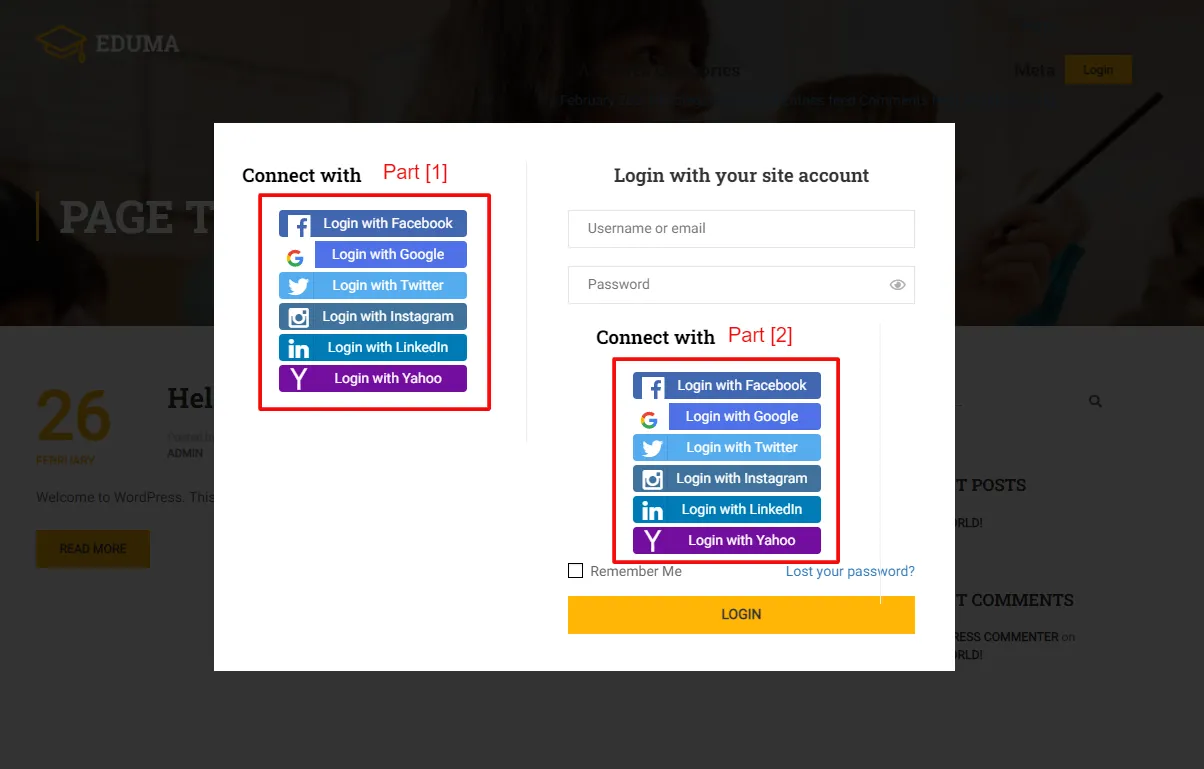 Enable Social login application as your requirement for the site.
Go to miniOrange Social Login plugin → click on Configure Apps → click on your need Login Icon:
Go to Appearance -> Widgets -> Toolbar or Menu Right -> put your shortcode [miniorange_social_login] To display the social login button.
Click on the login button.
Popular Integrations

WooCommerce Integration

With Woocommerce Integration you can Display Social Login buttons on Woocommerce pages and prefill details of a user in the billing and
checkout fields

Know more →

Discord Integration

Discord Integration add-on allows you to restrict the login/registration
of user based on
whether the user is present
in the Discord server

Know more →

HubSpot Integration

Hubspot Addon provide hubspot integration
where user contact will be automatically added to hubspot contact list on
successful registration via
social login applications

Know more →

Custom Registration form

With Custom Registration Form Add-On integrate details of new and existing users. Add multiple fields including the one returned by social sites during registration

Know more →

BuddyPress Integration

Buddypress integration add-on provides you both the features buddypress display option
and buddypress
extended attribute mapping

Know more →

MailChimp Integration

Mailchimp Add-On helps you to
integrate details of new as well as existing users. Mailchimp helps to Engage your audience with beautiful, branded emails.

Know more →


Additional Resources

If you are looking for anything which you cannot find, please drop us an email on socialloginsupport@xecurify.com